Atlanta Roadtrip 2017
Posted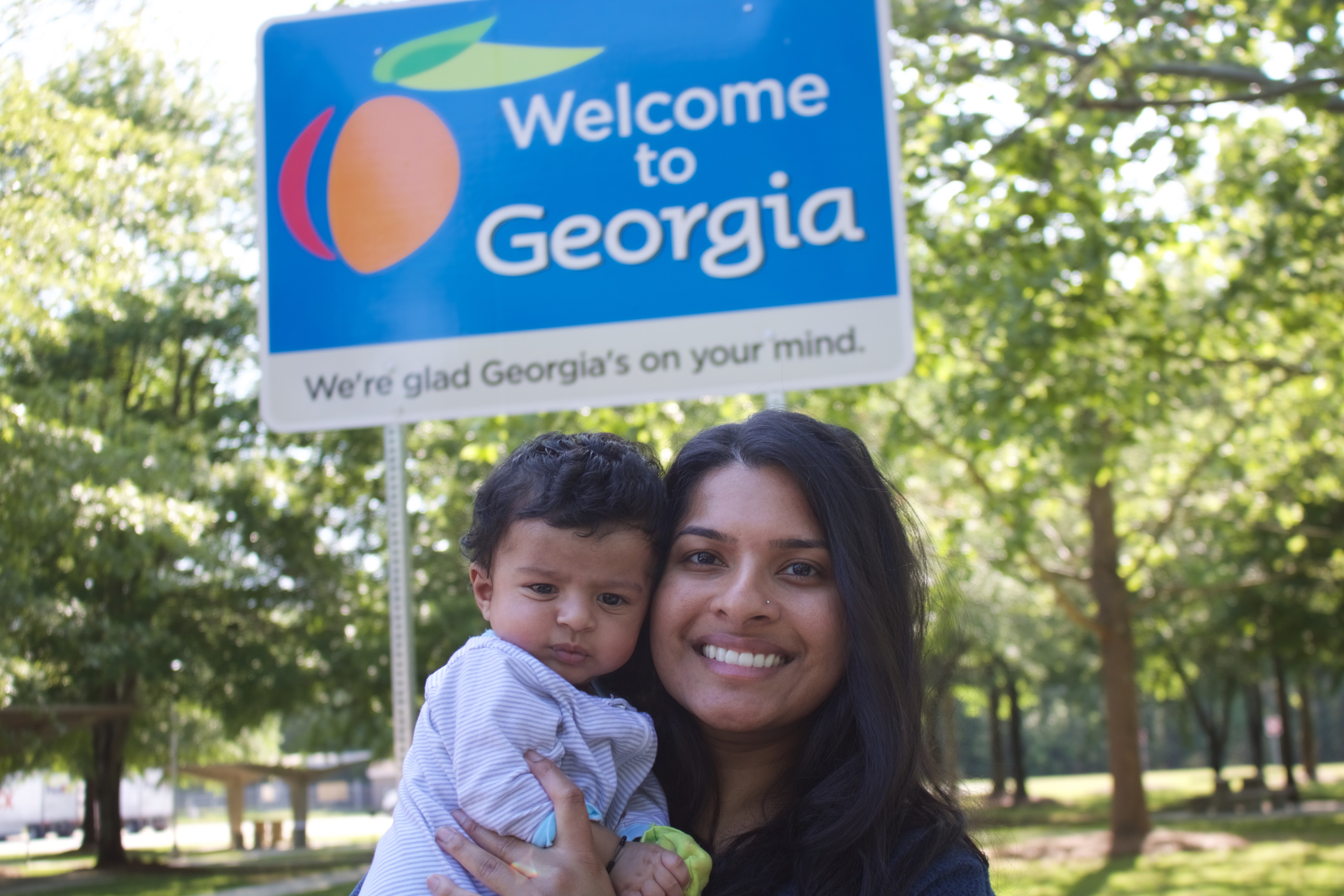 Atlanta & Pensacola Road Trip
Cost (Provided by Mint tracker) Hotel: $215 (2 Nights in Pensacola, stayed with family in ATL) Food: $232 (5-22) Gas: $160 Gifts and Entertainment: $160 Total: $760
Road trip number 2 for the year! First stop, Atlanta Georgia, 830 miles and another graduation to celebrate. We were curious to see how this longer road trip would go with our 4 month old. We left 5AM to get out of Texas by the time baby woke up. To our surprise he slept extra with the car seat making our first stent three hours. With a few more pit stops along the way we finally found ourselves on the Georgia borderline just an 1 ½ from our destination. First thing you'll notice are the trees, lots and lots of trees! After another diaper stop in downtown Atlanta, we made it to North ATL in 13 hours with the baby stops, food, and gas. We're so happy that he did so well.
Because we have the luxury of taking whatever we want and don't have to worry amount weight limits (darn planes), we packed some extras for the baby. Here were a few things we packed for him on the first long road trip. Please note this is a little overkill ☺
Bouncer
Sleeping Swing
Diapers
Bathing Tub
Sitting Seat
Play Mat (his favorite)
More Diapers
Clothing Bag
Car Seat
Stroller
As you can see we are first time parents and still learning. We packed 1 duffle bag with our stuff, a bag for snacks, and a gear back for laptops and cameras. The days of packing light are over until we figure out this parenting stuff!
Getting back to our journey, one must know that arriving into downtown Atlanta during rush hour on a Friday is a nightmare. That's why it's great when your baby decides to poop while you're in the highway mix master and forces you to take another break. It was nice because like we said, traffic was a nightmare and it gave us a break from driving 13 hours. Nonetheless we made it to our destination and had some great Mexican food that night. The next day we got to checkout some local spots.
Haru Ichiban Japanese Restaurant.
This place was a Japanese joint in Duluth, just 40 minutes north of Atlanta with some family. Please note that traffic on 85 sucks, like all the time. The waiting at staff Haru Ichiban was very nice and got us a table pretty quick on a Friday. They have a full menu but are known for their sushi and ramen. I went for the ramen! I got the Sutamina Ramen bowl ($10) with a miso chicken broth. The mix of chicken karaage (served on the side), raw egg, minced garlic, tempura crunch and spinach was perfect. Breaking the raw egg is what makes this dish! Again there are lots of things going on in a ramen bowl, so be ready for lots of taste and textures. If that's not your thing their full menu is pretty good from what I heard from family members.
8 Degree Fahrenheit Duluth
In Dallas it seems like rolled ice cream is the current craze. Sorry froyo. If you're in the same area as the Japanese restaurant mentioned above try some rolled ice cream across the street. The wait staff seemed a little slow, but the ice cream and presentation of rolling the ice cream was on par with any other joint. One of us got the Green Tea and Oreos the other the Cheesecake ($4 each). Both were delicious and the portions are huge. Two can actually share a bowl.
Refugee Coffee Co. Clarkston
Driving up to the Refugee Coffee house at first is boggling. First thing you see is an old gas station and mechanic shop setup. Then when you turn the corner you see a red coffee truck accompanied with rustic seating areas inside the mechanic bays, c-store area, as well as the gas pump area which is covered by the original canopy. On a hot day, this shade provides a nice cool shade! Across the building is some great wall art as well! And if you get lucky, some days there is even live music from local artist.
Antico Pizza
Located down the street from Georgia Tech Universiy, Antico is nestled in an historic neighborhood. Once you're inside, place your order near the front and make your way to the back seating which is basically the kitchen that boast dance music and from time to time Italian music. 3 clay ovens run all day to ensure the Napoli style pizza is made to perfection. The crust is also just the right thickness and crispiness. Sorry if you're not a fan of thin crust! Additionally, the owner sources all the ingredients from Italy, so we know we were getting authentic flavors. We kept it simple and ordered the Marinara pizza, basically mozzarella, basil, and tomato sauce for $20. The price is right for the quality! We highly recommend this place, as a definite must eat.
Don't forget to try out the Antico Gelato shop across the street as well. Sorry they don't do samples and the selection is small, but the gelato is fantastic with the right amount of creaminess you'd expect from a gelato. The price is a little high for the quantity, $5 for a small cup, but it's a great treat after having the pizza.
Midtown
We did a quick stroll around Midtown just east of central Downtown. It was raining so our walk was cut short. This area reminded me of Deep Ellum in Dallas. Tattoo parlors, bars, bike shops, record stores, and antique shops. Cool place to hang with lots of characters. Parking might be hard to find on the weekend so go early if you can or check it out on a weekday to avoid paying for parking.
Pensacola Florida
We drove into Pensacola during the day and made it in time for sunset. After running to the beach to catch last light, we grabbed a bite to eat at Flounders. This place had a massive patio style setup and the food was pretty good. We got the Shrimp Po'boy and the Nacho Platter. The spent the next day at "Casino Beach" that is right next the main bridge. Our day consisted of laying around, eating, playing with the kids in the water, and letting baby get a taste of the Gulf for the first time. It was a little cold but he did well. Check out the video above to see some clips. Since it was Saturday on Memorial Day Weekend, parking was good and the beach wasn't packed. We left the next day, so I'm guessing it was busier. Be sure to also check out "Quiet Water Beach" inside the Portofino Boardwalk. It's a great place for the kids and just chilling out. This is where we spend our sunset on night 2.
Heading back to the hotel after a long day we realized how early everything closes in the mainland, so we turned around and grabbed some pizza not to far from the main bridge to Pensacola island. The kids wanted pizza, so we stopped at the closest pizza place which was the New Yorker Deli and Pizzeria. Prices were reasonable ($12 per pizza) and staff was awesome! Even though they were only 20 minutes from closing they still sat us great service. The cheese was simple and delicious, but make sure to get the Fetta Cheese pizza. This was fantastic!!!
All in all, this was a good road trip with the baby! On the drive back, he did so well and barely fussed. Getting back into Dallas we grabbed some tacos in Bishop Arts and then headed home. Love us some tacos!! Not sure where we will go next, but stay tuned!