Morocco Family Trip 2020
Posted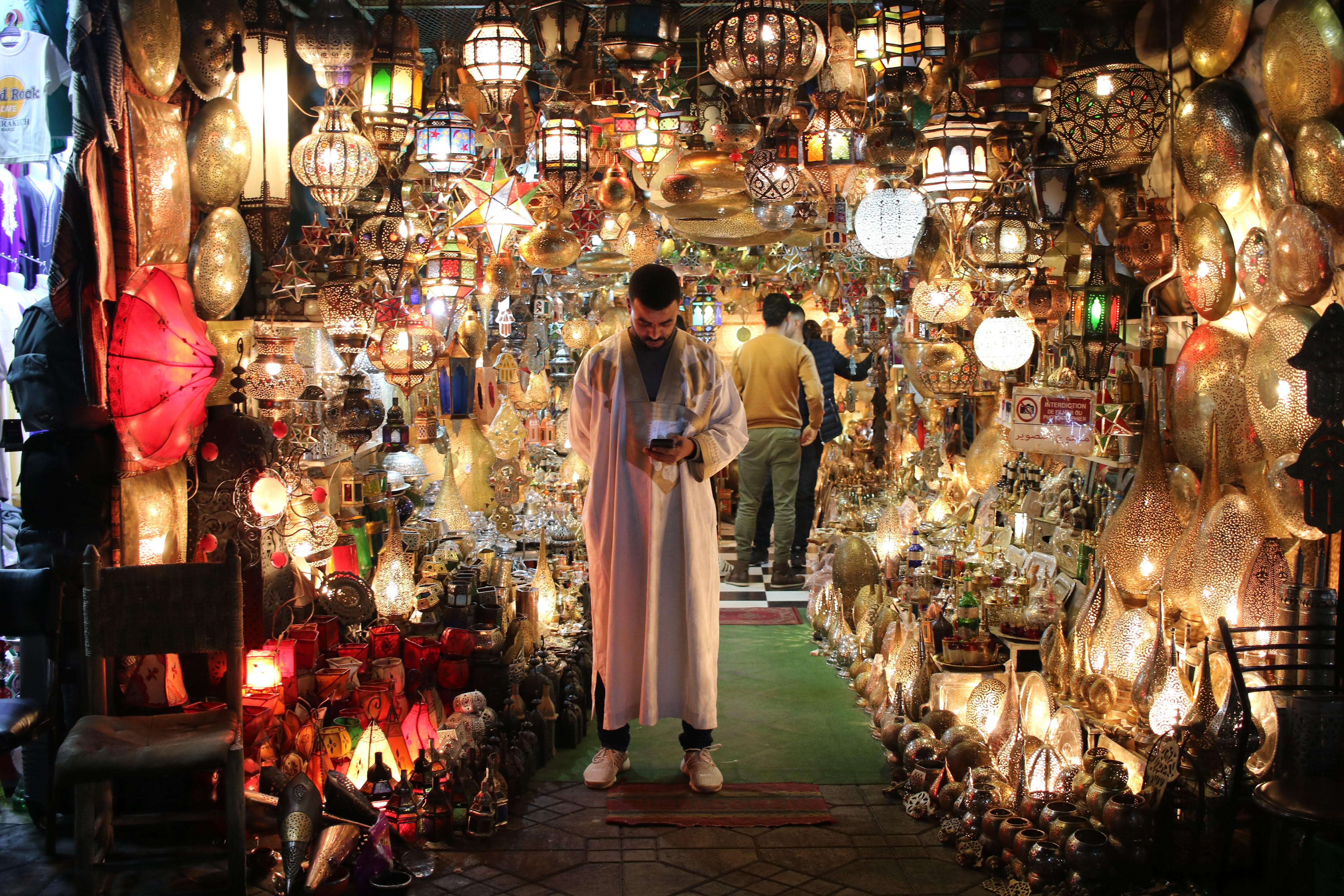 Here is a rum down of our Morocco 2020 Trip. It included 3 cities spread across the country. With my wife our kid and mysely, we had to plan a effcient path for our journey once landing in Casablanca. We found it best to start in Marrakech, go back to Casablanca for a day trip (since there isn't much to see there), then over to Fes. The reason we left Casabalana from day one is because to travel from Marrakech to Fes is 8 hours by train. So best we broke that triain ride up and it was best when travelling with a 3 year old. Certain excursions were not doable with a toddler but some definitely are. We had an amazing time and were happy with the way we laid our our trip. If you're planning on travelling with kids, I think this is the best itinerary you can plan. Kudos to my wife for making these plans.
Some tips before arriving:
Get Moroccan MAD when you arrive and get lots of change/coins if possible. You will need to use this for tipping people and cabs. You can get at the Airport for an fee of about 8%-10% on your total. Otherwise get Dirhams at your local back weeks before leaving the USA. Once you arrive at the airport maybe buy some snacks with your cash so you can get coins and smaller bills. People will ask to help with your bags at airport and train station and expect a small tip there after by gesturing with their hands (about 20 MAD is acceptable ). Up to you if you want the help or not.
Negotiate cab fares before getting in the car and try and have the exact amount. They will try their best to give you change but at times they cannot. On the cab ride they get pretty close to other cars and motorcycle so enjoy the excitement of the ride. At times they may also pick up a local and drop them off in the middle of your trip as long as it's on your route, which is also normal. I think the most we paid for a cab ride was 4 USD or 40 MAD.
They speak French and Arabic, so knowing some will go a long way. Many people also speak English. We downloaded French in google translate and it helped when I couldn't remember how to say things. I'm not good in Arabic so I didn't even bother.
To keep your kid happy, take stickers, puzzles, colouring books to keep them entertained for the long haul flights or train rides. In flight movies are super helpful and hopefully they will fall asleep at some point during the movie. We also loaded puzzles on our phones and must have videos we know our child likes to watch when he wakes up or stuff he is currently into.
Timeline:
After a long flight from the USA and the amount of time it takes to get between cities on train in Morocco, we figured we'd stay the night by the Casablanca hotel and travel to Marrakech in the morning which is a 2.5 hour ride. Because Casablanca is central, we decided to start our trip in Marrakech (South Morocco) then go back up north to Casablanca then to Fez , a day trip to Chefchaouen, then back to Casablanca for our return flight. The time by train from Marrakech to Fez is about 7 hours so staying a day or 2 in Casablanca is worth splitting up the long train ride, especially with a kid. Also once you land at the Casablanca airport it's a 40 min train ride into the main parts of the city which is near the Casa Voyager train station. Up to you on how you want to structure your trip but this worked best for what we wanted to see.
Day 1: 2/16- Arrive at Casablanca Airport (CMN) at 6:10PM
We Checked into ONOMO Casablanca hotel by the airport and took the free hotel shuttle which was a 2 min ride. The ONOMO shuttle comes every 30 minutes between 15:00 and 23.00. Since we landed around 18:00 we ate dinner at hotel restaurant which was good and reasonably priced. The staff at ONOMO were helpful and kind. The next morning we took the shuttle back to the airport and caught the 11:50 train to Marrakech. Trains run every hour on the hour, departing at 50 minutes after the hour. They are usually on time from our experience. A 1st class ticket cost 150 MAD or $30 USD at the time of writing this. Get the 1st class ticket as it's not much more than the 2nd class. And get non-smoking if you'r e not a smoker. Children under 4 are free. Trains are operated by ONCF and you can usually use credit cards to purchase tickets, but have cash just in case the credit terminals are down. No need to buy tickets in advance if your travelling in the off-season (we traveled in Late February). There are 2 options to go to Marrakech by train. One is through Casa Voyager or the other Waises. Casa Voyager is hectic so I'd avoid that unless your staying in Casablanca the day. As such we went through Wasis.
Day 2: 2/17 - Marrakesh Once arriving in Marrakech around 14:00 we paid our Riad to pick us up by taxi and have a baggage handler wheel our luggage to the room which was in the Médina. Cars are not allowed in the Médina and it can be a maze within the Old City Walls, so I highly recommend using this service if available from your hotel and it is within the Médina.
We stayed at Riad Lorysa which was beautiful. The staff consist of Yaseen (Manager) and Ahmed/Hamid (Staff) and Mina the cook. The staff here was amazing and our child made best friends with them quickly. I think Moroccans love kids!!! Once getting settled in our room, we walked around the Old City taking in the atmosphere, looking at shops and grabbed a bite at the Jama El F'na Square.
We watched sunset from the Agan terrace which had a panoramic view of the square. The people watching was fantastic and the on going drumming filled the air. In the square are various restaurants on wagons with promoters telling you theirs was the best. They are adamant about you eating at theirs but friendly at the same time. We ended up Getting lamb and beef Tajin for dinner that night while Aydin ate pizza. Great first night in the city!
Day 3: 2/18 - Marrakesh The next morning we took a 30 minute walk to le Jardin Majorelle which housed beautiful bamboo trees, cacti, and various other species of plants. Yves Saint Laurent spent much time here during the 80's so naturally his Museum was next door. Once we toured the garden and took many pictures. We headed to the YSL Museum which showcased his many works from early on in his career to inspirations from Africa and Marrakech itself. Later we took a taxi into the New City and grabbed a bite at COQ Barbecue. It's a local fast food place but was really good! Get the grilled chicken sandwich and a chicken 1/2 plate. We also greaves desert at the Vert Gin. Once arriving back at the media we did some price scouting on things we wanted to buy.
Day 4: 2/19 - Marrakesh ⁃Day Trip
The night before we weren't sure if we wanted to do the day trip excursion, but the weather on this day was cooler as it had been abnormally hot in Marrakech the past few days. With temperatures in the low 70's today we booked excursion tickets to the Atlas Mountains around 11 PM the night before on Trip Advisor. The excursion staff messaged us I. The TripAdvisor app to meet in Jama El f'na Square at 9:15. We got picked up around 9:30 and picked up 2 more families on the way. Our first stop was about 20 minutes out for some tea. We the. Drove another 30 minutes towards the mountains to see how Argon Oil was made by the locals and then headed to the Mountain valley for lunch. The views in the drive was amazing as you can see the changing Moroccan landscape. Once we finished lunch our tour guide Mohammad took us on a hike to his house to have more tea and then we made our trek up the mountain. Mohammad helped carry our child for a small bit and even offered to carry others backpacks. on most of this hike I made sure I carried our child most of the way as this was my workout for the days and my wife's birthday. I made sure she didn't have to work too hard and she could enjoy the hike. The hike was about 1 hour up hill with a few steep sections. It's is totally doable in running shoes or trainers but do bring a light jacket as it can get cold up in the mountains. It was about 58 degrees on this day in February.
On the hike you will see green river way, lamb running around, chilling playing in the streets and a few shops selling tourist items.
All in all it was a long 10 hour day but worth the views and experience you get. We bonded with the other French and British families on the tour and our kid became good friends with his french counterpart children Adam and Anna. They didn't speak the same language but they understand each other fully.
Day 5: 2/20 - Marrakesh This was the plan below but we over slept that morning and by the time we got ready for the day, ate lunch and had dessert it was 16:44 and all the Palaces were closing. In the end we finished buying our souvenirs, I got some knock off Adidas and Ray Bands. My wife got her a necklace and haggled so hard I think the store clerk quit his job there after as he ran out the store when she was done paying. We also got a medium sized Moroccan lamp for our bathroom Ali g with a genie lamp.
We finished the day at dinner at Le Jarden. It was a rooftop terrace to eat on. Not a great view of the city by any means by the food and atmosphere was perfect. Our kid only ate fries that night as he devoured an entire pizza in the afternoon. We enjoyed some Beef Tagina and Lamb Chops Ali g with some Ginger Beer that night.
Side note: Many of the tourist areas are open from 9:00 to 17:00 so make time to visit these places if posssbile.
⁃Bahia Palace ⁃Koutoubia ⁃Menara Gardens
Day 7: 2/21 - Train back to Casablanca -
Marrakech was wonderful and we will miss the staff there at Rid Lorsya. Hamid was our kids best friend and continuously asked for him and how much he loved him. I wish Hamid the best on his future endeavours! Mina was also loving and made sure our child had his banana for breakfast each morning. Later in the morning we took the train back to Casablanca Voyager Station leaving at 12:50. Once again the trains leaves every hour, 50 minutes after the hour. Our plan for the day was to arrive in Casablanca and eat McDonalds and do some site seeing. As you may know McDonalds in not a very Moroccan style food, but it's a thing we like to do in each country we visit to experience the difference this global offers for the local taste. Please note we rarely if ever eat McDonalds at home, it's just a quirky thing we like to do!
Once arriving at Casa Voyager Train station, we headed to our hotel and got settled in at Relax Hotel Casa Voyager. Staff was once again really nice and it's only a 10 minute walk from the train station. We then jumped into a cab for about 30 MAD and headed to the Hassan II Mosque. At first the driver wanted 50 and we rejected his amount for 30, so he drove off, but then reversed and took us. It was once again a crazy drive and think our driver's stress level was at 90%, so made the ride more eventful. The ride was about 30 minutes since traffic is killer in the city. During the stands too found our child making cute hand gestures with a lady in the car next to us. Seems like see initiated it and he just loved it. Once again it seems like Moroccans just live kids!!
Upon arrival the Mosque is majestic. Only build back in 1993, the style and look can make you think it's 200+ years old. It is immaculate, grand, and ornate. So glad we got to come here and it's right off the ocean. That's about all we did today
Day 8-9 Fes: What can I say about Fes, it had a very very large Medina dating back to 840 AD. The Riad we stayed in was build in the 1450's, Maya Fes Riad. It had amazing food, amazing staff (Ana, Himiad, & Alyamin). It was also in a good location within the Medina where cars could actually drive and drop you off. We did a day tour of the city which was well worth it as there are many sights to see and lots of history to soak up. We also enjoyed the Kofta dishes served at our Riad. An amazing beef dish with egg and sauce. On our final day in Fes we took a 20 MAD cab ride up to the top of the city to see the Marinid Tombs. This gave us a beautiful view of the city and was well worth the wait there after to catch a cab back. Once the cab drops you off at the top of the hill, you'll have to walk down south of the tombs to grab a cab to get back down to the city.
We flew back home to the US on day 10 which was comprised of us taking a train back to Casablana airport the night before where we stayed in the same hotel from our first night arriving in the country. Our flight was at 8 am so it made for an easy trip to the airport. Overall it was a great trip with great people, very kind and welcoming! Side note, I had the worst jet lag ever on the way back home, but it was still worth the experience.